Taking pre-orders for Phra Na Prok, Roon Muchalinda Mahapokasap.
Made by The Phramahamongkol Buddhaimit Avalokitesvara (Guan yin) Foundation, Ayuttaya Province. B.E 2557.
There is a change of price list in Thailand, and I believe everyone would know that.
Anyway, I will be taking orders for mostly Rians.... unless otherwise.
I dont have a sample of the rian.... Most pictures can be found online....
Below will be the pictures taken out from brochure :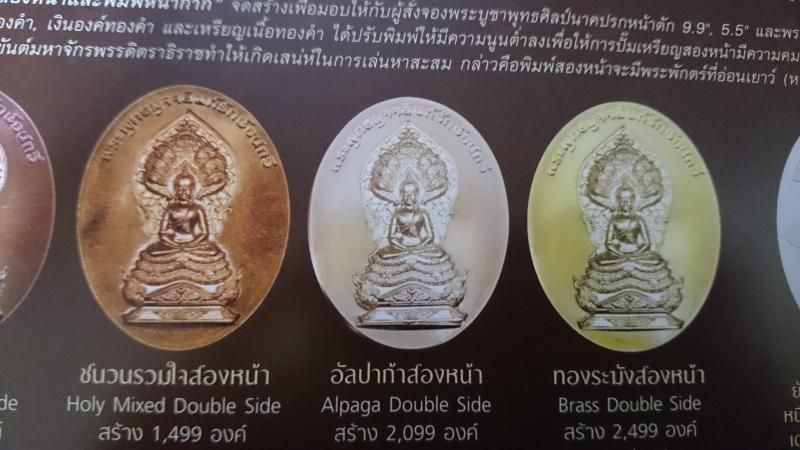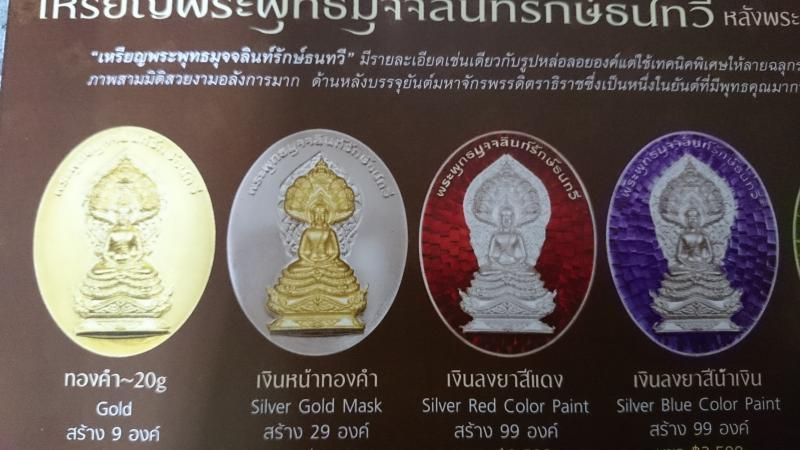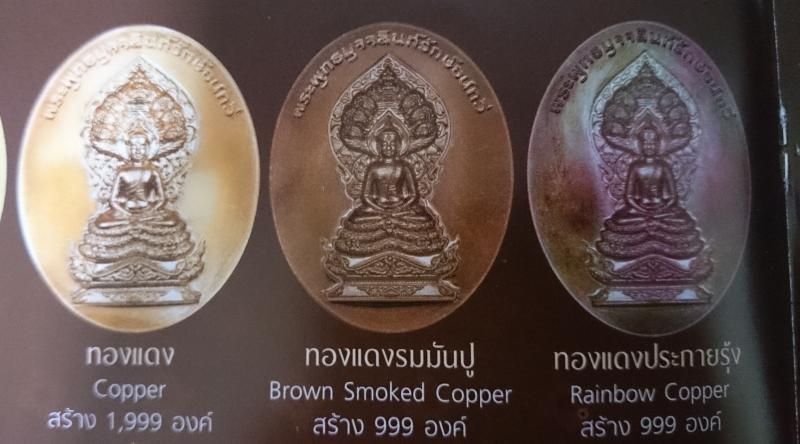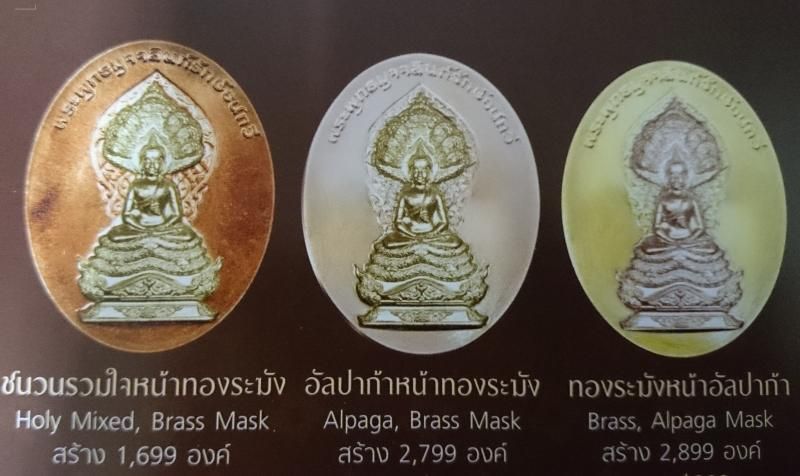 Pictures are not in order..... But,
Price list will be as follows :
Gold, made 9 pcs : -Sold out-
Silver Gold mask, made 29 pcs : $400 sgd
Silver longya (red, blue or green), all made 99 pcs for each colour : $120
Full silver , made 199 pcs : $100
Sattaloha, made 999 pcs : $45
Nawa Silver mask, made 199 pcs : $70
Apakat, made 599 pcs : $45
Holy mass mixed, made 999 pcs : $40
Brass, made 999 pcs : $35
Copper, made 1999 pcs : $30
Brown smoked copper, made 999 pcs : $35
Rainbow Copper, made 999 pcs : $35
Nawa apakat mask, made 369 pcs : $50
Holy mixed, brass mask, made 1699 pcs : $45
Apakat, brass mask, made 2799 pcs : $40
Brass, Apakat mask, made 2899 pcs : $30
The following will be slightly special as it is
double sided
, which means both sides are the same instead of the usual yant behind.
Silver double side, made 39 pcs : $165
Nawa double side, made 350 pcs : $70
Holy mixed double side, made 1499 pcs : $60
Apakat double side, made 2099 pcs : $48
Brass double side, made 2499 pcs : $40
All prices are fixed, either you can collect it directly from me, or I will mail it to you for free, using normal local mail.
Payment method : UOB or POSB bank transfer.
I will consolidate a total of 10 persons order before going ahead with my orders, item will reach me within a week after payment made by me to Thai side.
For people who missed out the previous order by a dear forummer here, you can still make orders from me.... But of cause, price is slightly different.
The following will be a list for you to take a look.
Do take note that for item 1.1, 2.1.1, 2.1.2 and 2.3 is sold out.
I cant guarantee that I can get nice numbers e.g 168, 188, 88, 888 etc etc
BUT
I might be able to get it. I would appreciate if you make your orders stating your desired numbers and I will check if it is available.
Good numbers hard to come by so please be prepared to pay a slightly higher price than normal numbers as the Thais are jacking the prices up too.
I can be contacted either thru PM here, or sms/whatsapp/line @ +65 90607271