MAHA PHUTTAPHISEK
Donations to build Ubosot for Wat Thamkhiriwong Kedah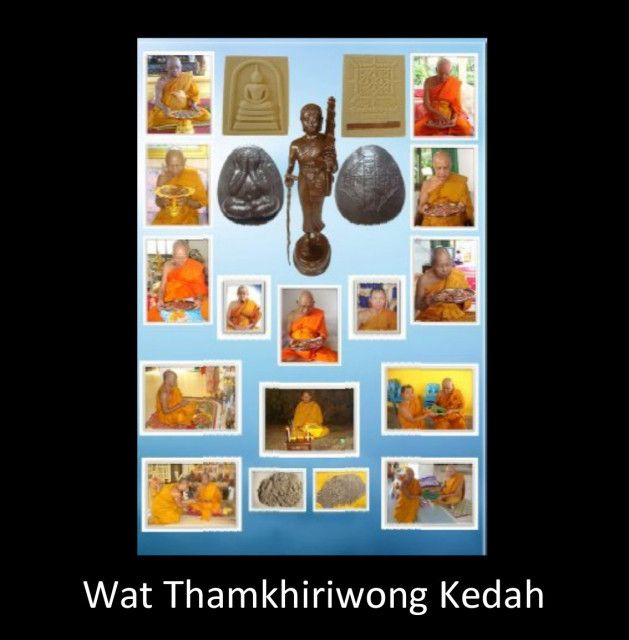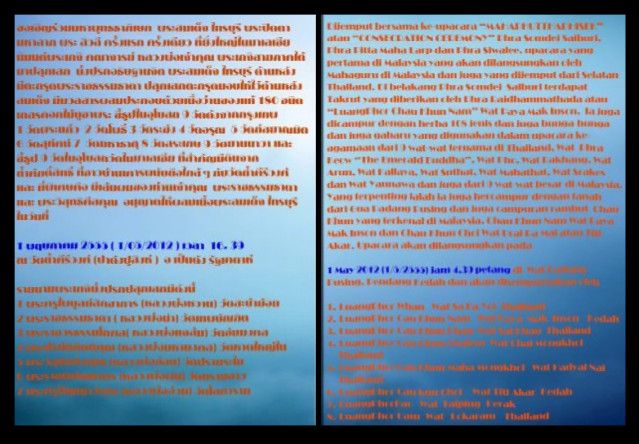 Hope this will be a joyous occasion for all votive tablet collectors keen in Kedah Masters talismans and for those of us who are happy to make donation in supporting a good cause. Alternatively, if you do not have any plan yet or nowhere to go during the coming Vesak Day, perhaps it is worth your consideration to visit Wat Thamkhiriwong. Sadhu! Sadhu! Sadhu!
Text only in Malay language.
Wat Thamkhiriwong, Padang Pusing, Pendang, Kedah
Dijemput bersama ke upacara ?MAHAPHUTTHAPHISEK? atau ? CONSECRATION CEREMONY? PhraSomdejSaiburi, Phra Pitta Maha Larp dan PhraSiwalee, upacara yang pertama di Malaysia yang akan dilangsungkan oleh Mahaguru di Malaysia dan juga yang dijemput dari Selatan Thailand. Di belakang PhraSomdej Saiburi terdapat Takrut yang diberikan oleh Phra Rajdhammathada atau?Luang Phor ChauKhun Nam? Wat Paya MakInson. Ia juga dicampur dengan herba 108 jenis dan bunga-bunga dan juga gaharu yang digunakan dalam upacara keagamaan dari 9 wat-wat ternama di Thailand, WatPhraKeow ?The Emerald Buddha?, Wat Pho, WatRakhang, WatArun, WatKallaya, WatSuthat, WatMahathat, WatSrakes dan WatYannawa dan juga dari 9 wat-wat besar di Malaysia. Yang terpenting ialah ia juga bercampur dengan tanah dari Gua Padang Pusing dan juga campuran rambut dua ChauKhun yang terkenal di Malaysia, ChauKhun Nam Wat Paya Mak Inson dan Chau Khun Choi Wat Prai Ra Mai atau TitiAkar. Keistimewaan PhraSomdejSaiburi, Phra Pitta Maha Larp dan PhraSiwalee tidak dipertikaikan kerana dicampur juga dengan herba dan rambut yang diberikan oleh mahaguru-mahaguru dari selatan Thailand seperti Phrabrahmachariyacharya, Ketua Sami selatan Thailand, Phradhammavongsacharn, Luang Phor Phan dan sebagainya. Luang Phor Nam dan Luang Phor Choi turut menyempurnakan lagi PhraSomdejSaiburi, Phra Pitta Maha Larp dan PhraSiwalee ini. Upacara akan dilangsungkan padaMay 1, 2555 (1/5/2012) jam 4.39 petang di Wat Padang Pusing, Pendang Kedah dan akan disempurnakan oleh
1. LuangPhor Whan Wat Sa Ba Yoi Thailand
2. LuangPhor Chau Khun Nam WatPayaMakInson Kedah - Chief Monk of Kedah
3. LuangPhor Chau Khun Phan Wat Sai Khaw Thailand
4. LuangPhor Chau KhunChalem Wat Chai Mongkhol Thailand
5. LuangPhor Chau KhunMahaMongkhol WatHadyaiNai Thailand
6. LuangPhor Chau Khun Choi WatTitiAkar Kedah - Assistant Chief Monk of Kedah
7. LuangPhorBao Wat Taiping Perak
8. LuangPhor Aum Wat Lokaram Thailand
9. Luang Pu Mee Chai Jawi Malaysia
Semua hasil derma akan digunakan untuk menampung kos pembinaan Ubosot yang sedang dijalankan. Untuk keterangan lanjut, sila hubungi 019-4440497, 019-4757813, 019-5259518. Email:
cikrak22@hotmail.com
After the blessing ceremony finish around 5-6pm on
1st May 2012
, devotees can start renting the items at the temple. All donations generated from the renting of above items will be used for Ubosot construction.